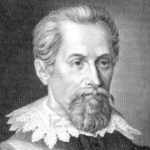 Johannes Kepler shattered the ancient dogma that the planets move in perfect spheres and, with the assistance of Tycho Brahe's detailed and precise astronomical observations, proved that the planets orbit in ellipses with the Sun as one of the foci.
Kepler, like many of his contemporaries, had interests in both astronomy and astrology, both of which were reflected in his works.  For the early part of his life and career, Kepler believed that God had arranged the plants orbits into particular geometric schemes.  Originally he thought in two dimensions, with three sided (triangle), four sided (square), five sided (pentagon), six sided (hexagon), and seven sided (heptagon) all perfectly inscribed in a circle, each nested inside each other with the outermost figure being the triangle.  After observation failed to match the model Kepler then though in three dimensional figures using the platonic solids for the model of the solar system.  This model was elegant, perfect, and completely wrong.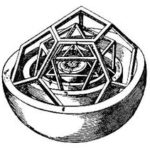 Eventually Kepler got his hands on Tycho Brahe's observational data where he finally deduced the ellipse as the correct orbit of the planets and formulated the three laws of planetary motion that bear his name.   These laws proved crucial to Newton's discovery of his laws of gravitation.